2022-2023 Performing Arts Center Calendar Events
Choir Fall Concert Tuesday, October 11 -7:30pm

Orchestra Fall Concert Thursday, October 13-7:00pm

Warsaw Marching Band Community Performance Fisher Field Friday, October 14 Times TBA

Select Theatre Show "Where Words Once Were" presented by the WCHS Theatre Department November 5-7:30 and November 6 2:30.

WCHS Drama Department presents Peter and The Star Catcher Friday, November 11 -7:30pm, Saturday, November 12 -2:30 & 7:30pm, and Sunday, November 13 -2:30pm

Grace Wind Ensemble Friday, November 18, 2022

Orchestra Cabaret Saturday, November 19- 7:00pm

Orchestra Holiday Concert Thursday, December 8, 2022-7:00pm

Choir Holiday Concert Tuesday, December 13-7:30pm

Band Christmas Concert Thursday, December 15-7:00pm

PAC Holiday Gala Sunday, December 18-4:00pm admission charge

Holiday Dance Concert Tuesday, December 20-7:00pm

WCHS Theatre "A Magical Day" Saturday, February 25, 2023-12:00-3:00pm

WCHS Theatre Spring Musical Sponge Bob- Friday, March 10, 2023- 7:30pm, Saturday, March 11-2:30 & 7:30pm. and Sunday, March 12-2:30pm

Band Showcase Concert Wednesday, March 22, 2023- 7:00pm Career Center Gym

Grace Wind Ensemble Times TBA Friday, March 24, 2023

Choir Classics Concert Tuesday, March 28, 2023-7:30pm

WCHS Theatre ONE Act Plays Friday, May 5, 2023-7:00pm

Spring Band Concert Tuesday, May 9, 2023-7:00pm

Spring Dance Concert Thursday, May 19, 2023-7:00pm

Spring Choir Concert Tuesday, May 23, 2023-7:30pm

Spring Orchestra Concert Thursday, May 25, 2023- 7:00pm
* ALL DATES AND TIMES SUBJECT TO CHANGE
Warsaw Performing Arts Center Events: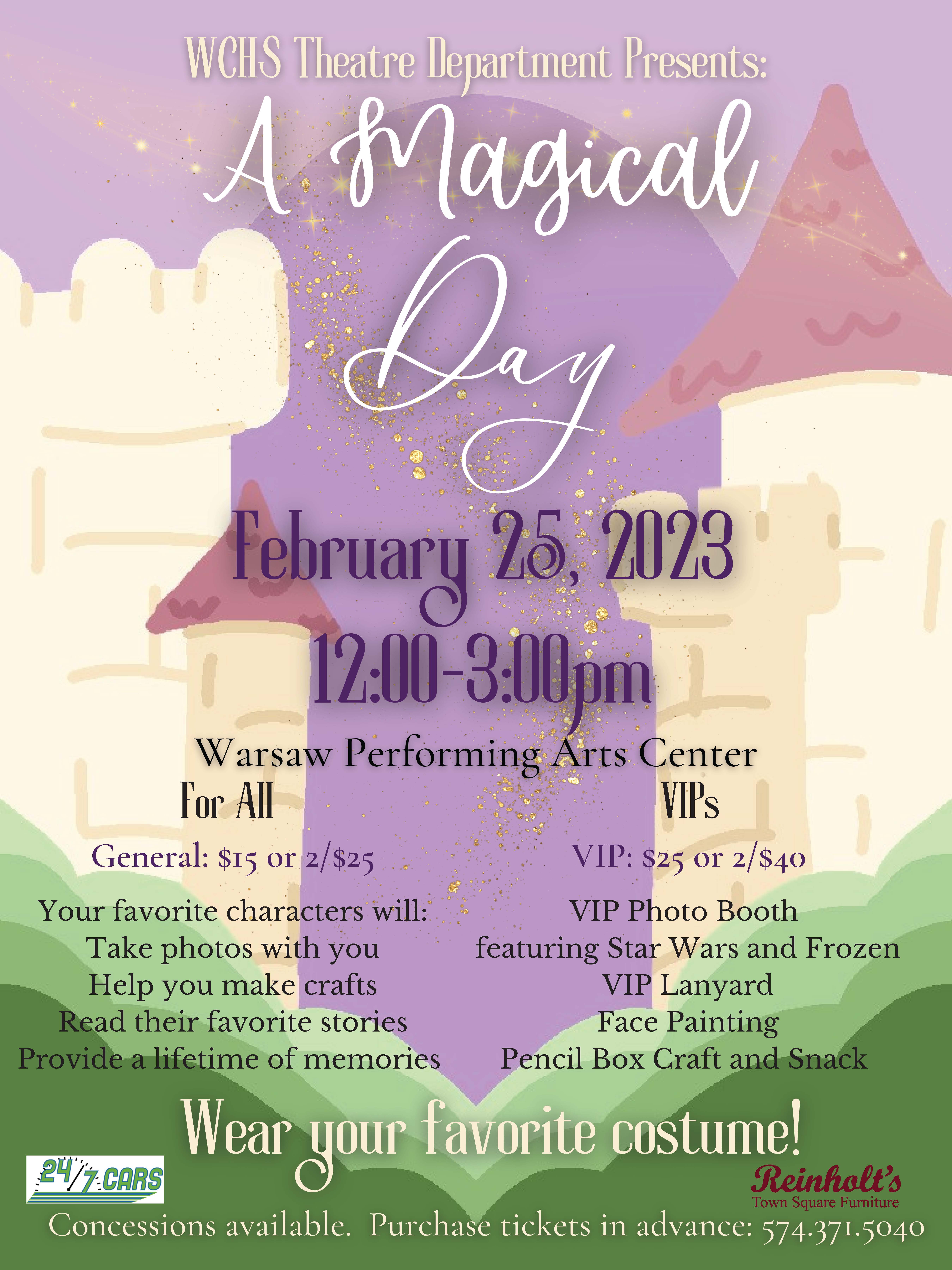 WCHS Theatre
Department presents
"A Magical Day"
The WCHS Theatre Department presents its annual "A Magical Day" on Saturday, February 25, 2023 from 12:00 to 3:00 PM at the Warsaw High School Performing Arts Center.
All children will be able to do crafts with the characters and have photo opportunities with characters. Read beloved Story Books. A regular-priced ticket of $15.00 per child includes all these activities or 2/$25.00. A VIP ticket of $25.00 per child or 2/$40.00 includes all the above plus face painting, pencil box craft, snack, VIP lanyard, and VIP Photo Booth featuring Star Wars and Frozen. Parents do not need tickets. Children under two are free for general admission. Children two and under VIP Tickets are $10.00. There will be concessions available.
If your student has a favorite costume, we invite them to wear it, and parents are also invited to dress up.
Tickets are available at the door or by calling the box office at (574) 371-5040. Don't wait to call, VIP tickets are limited.
Online Ticket Purchase: A Magical Day Tickets
There is an extra charge of $2.00 per ticket when ordering online.
#wcsmission #togetherwearewarsaw
8TH ANNUAL YOUNG ARTIST STATE-WIDE COMPETITION
This event will be held at the Warsaw Performing Arts Center at Warsaw High School. This event is FREE and open to the public to attend.
REGISTRATION INFORMATION: Register
The Symphony of the Lakes, a part-time professional orchestra located in Warsaw, Indiana, is pleased to announce that we will be hosting the Symphony of the Lakes Young Artist Competition. Our organization recognizes that Indiana is blessed with so many wonderful young musicians around the state, and that we want to offer students a unique opportunity to compete and also have an opportunity to perform with the Symphony of the Lakes in the future. Our musicians come from all over Indiana, so it's important to us that we've expanded this opportunity for students beyond northern Indiana.
The competition will be February 11th, 2023, at the Warsaw Performing Arts Center, with opportunities for students grades 5-12 who play any of the following instruments: Orchestral Strings (including Harp), Brass, Woodwinds, Percussion, and Piano. Students must meet specific eligibility requirements to participate.
#wcsmission #togetherwearewarsaw